Note : This Anime has Girls who are naked. Watch but you have been warned!

Whole review made by me. Possible Spoilers. Pictures at bottom. Beware of Nudi


ELFEN LIED (Horror, Psychological, Romance)
Plot
New type of people called Dicloniuses with two horns and
vectors, pairs of invisible arms, that has the power to cut or manipulate
objects within reach. It has been believed that this dicloniuses, can be the destroyer of mankind. A diclonius named Lucy managed to escape from a very high security diclonius laboratory. This "Lucy" had been taken in and called a murderer for killing 24 people within five minutes. Kouta, a high school student, moved into Kamakura, who reunited with his childhood cousin, Yuka. They went to a beach to reminisce memories and as a result, they found "Lucy", who is naked. She is can only speak the word "Nyu", she was named "Nyuu", as the result.
Characters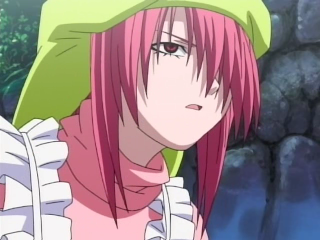 Lucy
The diclonius, that managed to escape the high security, research institute. She hates mankind, and plans to kill every human as a resort of her vengeance and hatred among humans. This hatred was caused by her past experiences when she was a child. She was isolated because of her horns, and experienced living hell. But she met Kouta, and became friends with him. As time passed, she started to develop feelings for him. One day, there was a festival around town, and Kouta has to leave the town after going to the festival with her female cousin, Yuka. Lucy asked Kouta, the night before he leaves, if the cousin Kouta is going with to the festival is either a boy or a girl. Kouta replied a lie, saying it was a boy. Lucy was relieved. She decided to go to the festival that
night. But, she saw Kouta, with her cousin, who is actually a girl. She was lost in thought, then her violent side came in and killed people around her. Kouta, his father and his sister were riding a train home. Then suddenly his sister starts talking about a girl with horns killing the people and stuff. Kouta got mad and starts yelling at his sister. His sister runs towards the other cabin of the train and there she met Lucy. Kouta followed his sister. Lucy said to Kouta, "Liar", and she killed Kouta's younger sister and father. In the end, he didn't killed Kouta because they were friends. Lucy is at the breaking point of wanting to die, but due to Kouta, she continued to fight in this place she called hell, just to find Kouta, and apologize.
Kouta

Kouta, is a high school student and the main protagonist of the anime. He's a very kind person. He recently went back to Kamakura, to visit and study with his childhood cousin and love, Yuka. He is a generous and loving to girls around him. Kouta suffered a great shock for experiencing the death of his younger sister, Kanae and his father right in front of him, causing him to lose his memory of that incident, and his memory
of Lucy. In the end, he can't forgive Lucy for what she have done to his life. Yet, even though that happened, he still loved her as he remembered the memories they shared together.
Nyuu

The other personality of Lucy. She is very nice and cheerful. Yet, she appears to be a side of Lucy that has amnesia, losing her ability to speak. She doesn't know how stuff work in the real world. Probably because of her first time actually venturing out in the real world as
Nyuu.
<

pic removed because of censorship

>